Fireside FileMaker™ is a podcast collaboration between John Mark Osborne and Michael Rocharde discussing FileMaker related topics. We'll guide you through the ins and outs of complex FileMaker decisions within the warmth and comfort of a campfire discussion amongst friends. Download an episode and try us out & please leave comments. We would love to hear your thoughts on existing podcasts or suggestions for future FileMaker related episodes.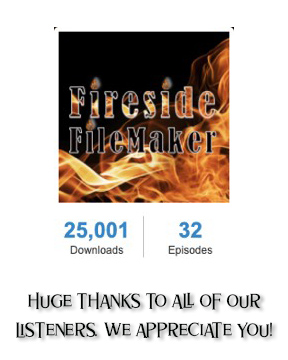 In this two part podcast, John Mark and I go back deep into the past to discuss the most important and influential features released in each version of FileMaker. Many, if not most, of these fetures are still in use today but they have all paved the way for the deveopment powerhouse that FieMaker is today. Even though, nobody really needs to know when these features came about, we think you will find this episode more than a little interesting and, as always, we'd love to hear your comments.
Part 1 covers all the way up to FileMaker 9 and Part 2 covers from 9 to the current version, FileMaker 19.
Last week, the 1st Claris Engage conference took place, virtually, over a 2 day period. John Mark and Michael plus our special guest Marc Larochelle (from Productive Computing) reminisce about previous DevCons and then, at 11 minutes in, we start to discuss the conference itself. (All of the sessions are available to watch at www.community.claris.com. Login and then click on Academy, fill in the simple questionnaire and then click on Engage On-Demand). Whether you were able to attend the biggest FileMaker event of the year or not, you can get the complete rundown from our perspective where we highlight what we believe are the most important take-aways applicable to any professional FileMaker developer. Please join us in the conversation!
We invited Darren Terry on our show to talk about the calculation dependency tree (what triggers calculations to fire). What we got was so much more than we expected. Darren's close ties with Claris engineers and dedication to the platform has given him insight into how FileMaker works under the hood. To put it simply, both of us were flabbergasted at how much he taught us about FileMaker. Come join us in this in this "can't miss" PodCast about the calculation engine and whatever else comes across Darren's big brain. (Our regular guest, Marc Larochelle had this to say "You can plant an entire garden while learning about dependency trees.")
Original "Shaking the Dependency Tree" Article from FileMaker Hacks
In this two part podcast, John Mark & I, are once again joined by Marc Larochelle (CEO of Productive Computing) for a discussion about the tools that are available to FileMaker developers at all levels. This part mostly covers the internal tools and options that are available inside of FileMaker and in Part 2, we'll be discussing some of the external (commercially available) tools that could enhance your development efforts. We hope you find the discussion interesting and enjoyable.
In this 2 part podcast, John Mark and I discuss all the 179 script steps in FileMaker 18. We tell you which ones you should know intimately and which ones you should avoid using. It's a lengthy topic.
In this podcast we are once again joined by Marc Larochelle, President of Productive Computing, for a far-reaching, and absolutely fascinating, conversation about data migration, the Separation model (we get Marc's insights and opinion on this subject so its not just a rehash of stuff we've already talked about), live updates (working on a live copy of the database at the same time as other users are working on it), syncing and some different ways of implementing it, setting developer flags on new scripts for testing; having separate servers for development, testing and production, using a terminal server (remote machine) to perform tasks locally where it would take too long to do it over a WAN and finally performing scripts on servers.
Inexperienced developers often program FileMaker in a particular way because they saw someone else on a video, blog or other resource perform the same series of steps. It even happens because the developer simply follows the client's request. There isn't one set of programming for generalized solutions. It's up to you as a developer to think about the best way to solve a programming problem with all the tools at your disposal. In this podcast, we examine the pros and cons of Quickbooks integration, calendars, web enabling, the data separation model, live development, main menus, dashboards, reporting, progress bars, building solutions from scratch as opposed to using a starter solution, un-stored calculations, custom menus, backing up, organizing the relationship graph and testing scripts and calculations as you go.
Modularization, generally, refers to scripting where you take a section, or sections, of one script and create a sub-script from that which is subsequently called (or invoked) from the original script. There are lots of reasons, and some significant benefits, as to why you might want to do this but there are also a number of gotchas and reasons why you might not want to. In this podcast we discuss the pros and cons of modularization so that you can make your own decisions as to whether it is right for you or for the solution you are working on.
You need to develop a solution for your business but you have little or no FileMaker™ expertise. Should you hire an expert or do you want to take the time to learn FileMaker? If the latter, do you have the time to learn it and is it a good use of your time? Many in-house developers drastically underestimate the amount of time it takes to learn FileMaker, let alone actually program a complex FileMaker solution. And don't forget about the time it will take away from running your business to produce the solution. In this Podcast, we'll explore both options and if you choose to do it yourself, discuss some of the available resources that you can use to learn FileMaker.
What if …? is, perhaps, the most important question that you will ever ask yourself; it is the starting point for all FileMaker development and is a series of questions; each of which has to be answered before you can move onto the next one and each of which requires the developer to try out and to put into practice. It is a design/development philosophy that also applies to the business of living.
Today we talk to Jesse Barnum, President of 360Works and one of the best known people in the FileMaker community. We talk mainly about synchronization and their new product, MirrorSync6, but the conversation goes far beyond just that; plugins, FileMaker Cloud, Claris Connect and other subjects. You should find it fascinating listening; we certainly did.
It's more than safe to say that Steven Blackwell knows more about, and has had more influence on, FileMaker security than anybody in the industry. His contributions are legendary and his knowledge is extraordinary. We are honored that Steven accepted our invitation to discuss the subject and we hope you will join us for a fascinating conversation discussing all things security.
With the release of Cloud 2.0, hosting a FileMaker solution has become more complex due to a myriad of choices. With our special guest Marc Larochelle, we'll go through the assortment of hosting options while comparing and contrasting them. By the end of our conversation, you should have a good idea what flavor of FileMaker hosting is best for your business.
https://firesidefilemaker.podbean.com/e/your-host-awaits-you/
Supporting documents you might find useful
FM Server versus FM Cloud for AWS: https://www.filemaker.com/products/filemaker-cloud-for-aws/compare.html
FM Server versus FM Cloud 2.0: https://www.filemaker.com/products/filemaker-cloud/docs/fms_vs_fmc_wwe.pdf
FileMaker Cloud for AWS tech specs: https://www.filemaker.com/products/filemaker-cloud-for-aws/1-17-technical-specifications.html
FileMaker Cloud Tech Specs: https://www.filemaker.com/products/filemaker-cloud/2-18-technical-specifications.html
FileMaker Server Tech Specs: https://www.filemaker.com/products/filemaker-server/18-technical-specifications.html
FileMaker Platform (version 18) deprecation list: https://support.filemaker.com/s/article/Deprecated-and-removed-features-in-FileMaker-18?language=en_US
In FileMaker, context is everything but what does that mean? How do you know if you are in the correct context and what happens if you're not? (HINT: most programming errors are due to being out of context). In this podcast, we discuss everything related to context, using real world examples, so that developers fully understand this most important concept. We also talk about all of the different places where context is important, starting with the relationship graph and, in the process, discuss relationships, the differences between tables and table occurrences and explain anchor-buoy, perhaps the most commonly used method for managing the relationship graph.
Marc Larochelle, CEO of Productive Computing, is a FileMaker veteran with over two decades of experience. In this exclusive interview, we get his expert perspective on subjects like APIs, Cloud 2.0, hosting, AWS, plug-ins, the development process, Claris Connect and much more. Marc's keen insight into the FileMaker market will help you understand the complexities of this ever changing environment. With so much to talk about with an industry leader, we've broken it up into two parts. Please come join us around the campfire and enjoy our conversation with Marc.
Thanks so much for this Podcast – it is awesome.  NOT just for FileMaker Geeks….it is also GREAT for In-house developers as well as a company considering having a Filemaker custom solution created for them. Rob Riedlinger
The calculation engine is everywhere in the FileMaker interface and for good reason. It adds additional functionality wherever it's employed. It enhances scripting, allows auto-entering related data, provides record level access, hides objects and so much more. To say the calculation engine is invaluable is an understatement. We'll discuss the ins and outs of the calculation engine in all the different areas where it used so as to provide a big picture view of this crucial feature.
I just wanted to say that this last episode of Fireside FileMaker on the ubiquitous calculation engine was great. That's the kind of episode I'm looking for from experienced developers like yourselves. I love hearing about the philosophy behind programming practices, and actually learning something. It really helps in filling in knowledge gaps and making us all better programmers. Dusty Hanes
The FileMaker certification exam has been around since FileMaker 7 and is defined as a credential that demonstrates to clients, peers and management your FileMaker skill level. To this date, it's still the only real method for measuring that level. In this Podcast, we discuss the history of certification, what is required to pass it and generally everything you need to know to be successful. We also ponder whether the effort is worth it? What are the advantages and disadvantages of certification? Will certification translate into more business? Can you do just as well without it?
I appreciate that both of you very busy gentleman took the time out to give a candid and transparent view of certification. The time spent listening to the podcast, was well worth it. Thank you both for your unique perspective. Mike
FileMaker solutions can live and die by the interface alone. It's the first thing a user sees and can sway their opinion in the first few seconds of them seeing it for the first time. It's so important but many developers don't give it much thought. How do you develop an interface that clients want to use and which makes it easy for them to do their job? Do you use a standard theme or do you take the time and trouble to develop a custom theme that you can use over and over again? How do you size the screens? How much color should you use? How do you take into account that some of your users may be color blind? These and more points are considered to give you a well rounded look at interface design.
KISS stands for Keep it Simple, Stupid. It's a funny acronym but a very important concept to apply to the FileMaker development process. Too many developers over-engineer FileMaker solutions, charging clients more than is necessary. KISS is about elegance, about making it easier for someone new to take over a project without having to wade through complicated, modularized scripts that are almost impossible to debug. We live and breathe KISS and hope that, after listening to this podcast, you will too.
Timeless advice for developers and life in general! Robert Jackson
The Workplace Innovation Platform (WIP) is a newly defined technology category, by G2.com, for which FileMaker is the leader. There are 27 other software applications on the list and FileMaker was voted the best in the category. While the category itself is new, FileMaker has been WIP compliant for more than 30 years making it very hard for all of its competitors to catch up. Come find out what makes FileMaker uniquely qualified as a visual design and full-stack development application, collaborative, secure, integrative and supportive like no other WIP tool on the planet.
This is Part 2 of a 2 part (90 minute) amazing conversation with Rick Kalman, Director of Product Management for FileMaker, and Robert Holsey, Senior Product Manager for FileMaker. Rick and Robert talk about, among other things, Claris Connect, the benefits of acquisition instead of strategic partnerships, save as XML, responsive layouts, Apple's influence, live database development, moving to a web first strategy and changes to the relationship graph. We are extremely grateful that they took so much of their time to talk with us candidly and openly.
Part 1 was released last Wednesday (8/21/19). Steven Blackwell tweeted that it was an 'Exceptionally significant PodCast' and that 'All #FileMaker developers should listen.' https://firesidefilemaker.podbean.com/e/a-conversation-with-claris-part-1/
This is Part 1 of a 2 part (90 minute) fascinating conversation with Rick Kalman, Director of Product Management for FileMaker, and Robert Holsey, Senior Product Manager for FileMaker. If you aren't familiar with these two experienced Claris International employees, we consider them to be part of the backbone of the company. Rick and Robert share some incredible insights about what goes into releasing a new version, their vision for the future and their quest to make FileMaker the best tool on the planet. We are very honored that they took so much of their time to talk with us candidly and openly.
At the FileMaker Developer Conference last week, FileMaker, Inc. announced they had changed their name to Claris International and purchased Stamplay. This is a bit of déjà vu for anyone who remembers MacWrite, MacPaint and Claris Corporation. It's a blast from the past that's been modernized. We'll share our thoughts on the announcement and even speculate as to what the future holds. Come join us for this exciting new era for FileMaker.
What are all the steps in the development process?  What are the things you must pay the most attention to?  How do you make sure that the project doesn't go off the rails because you forgot something important?  How do you manage expectations, both yours and the client?  In this podcast, we discuss every aspect of the development process from that very first all important meeting (phone or otherwise) with the new client, all the way to deployment and beyond.  We offer different strategies and ideas that you can easily implement to make sure that every project you do has the best chance of success, leaving nothing to chance.
Are you a budding developer who wants to start his own FileMaker business? In this podcast, we talk about what you need to know to become a professional developer as well as how to drum up business by mastering the key skills needed to promote yourself and your services. Technical know-how and business acumen are the key to opening and maintaining a successful FileMaker development firm of one or more people.
We talk about our background and experience inside the world of FileMaker which we've spent a combined total of 6 decades working in, including how we got started and what we've been doing since then. We think it's important for you to know that we are both experts in the field of FileMaker and there is nothing that we like more than talking about it and sharing our knowledge.
"Michael and I have created FileMaker example files, written blogs, recorded videos, presented in public and even published books but we have never had the opportunity to record informal chats about FileMaker, much like you would with a FileMaker colleague. We are excited that this medium will allow us to explore FileMaker in a way we've never done before", says John Mark Osborne.
Too often, people abuse the capabilities of a spreadsheet when they should be using a database, like FileMaker. We're hoping that our discussion will help clients and developers alike choose the right tool for the right job. In this podcast, we'll cover subjects like multi-user sharing of information, security, limitations and much more. If you've ever wondered when to use a spreadsheet and when to use a database, this talk will answer your questions and help you to make the best decision.
In this episode, we talk about the data separation model, a semi-popular technique, used by a number of developers, where the interface is in a separate file from the data, allowing the interface file to be replaced at any time without having to import data into a new version. To say that neither of us are fans of the model would be an understatement, but we discuss what it is, why people use it, our thoughts on it and generally give it a fair shake. We also discuss the new data migration tool which automates the import of data from an old version to a new and how this has changed one of the key reasons for using the data separation model. At the end of it, you'll come to your own conclusions but we hope you'll find the subject matter interesting and the content thought-provoking.
I always felt like I should be considering the Separation Model but now feel fine ignoring it. xgdwm7
In this episode, we discuss FileMaker native technologies; what they are, when they should (or should not) be used and lots of other things that we believe you'll find interesting. Like everything else, there's a time and a place for external technologies but too often, these technologies are embraced by those who haven't taken the time to explore what can be done using traditional FileMaker methodologies. We are both FileMaker purists, with a couple lifetimes of experience developing FileMaker solutions, who believe in doing things the FileMaker way first, (often faster, simpler and always easier for somebody else to come in and debug or make changes), and only use other techniques/languages when it makes absolute sense.